I know, I'm as shocked as you are.
Apparently Rush Limbaugh's "girlfriend" gave a
statement
to local press about his trip to the hospital.
Really, a woman actually associates THAT closely with this man? Really!?!?
I'm thinking that she must get some sort of monthly stipend for services rendered. How else would a woman be able to stomach spending time with someone as monstrously loathsome as Rush Limbaugh.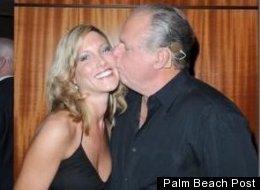 I mean, look at that face and tell me that there's not dollar-signs in those eyes. She knows exactly what she's doing. Pity that it has to be with that twitching mass of hate and cholesterol