It seems that Sarah Palin is all about "
tweeting
" about bears in a style that that can only be described as a cross between a 7 year old attempting to summarize Proust and a crystal-meth addict on a bender trying to place a drive thru order at White Castle.
But, have you seen how her house is decorated?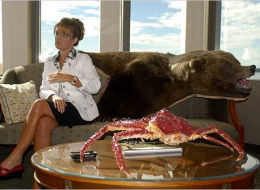 I mean, is that the sitting room or where she stores last night's left-overs?