When you have a person with such a massive ego, like Bill O'Reilly, it's difficult to have an intelligent diiscussion with them. The reason being, they know EVERYTHING.
O'Reilly, for all of his self-agrandizing posturing, has a very difficult time remembering the history revolving around the country that he claims to be "looking out for". There have been
several
examples
of
this
in the recent past.
Colmes always gives up too easily.
Here's a pick of Mao.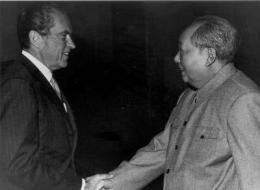 You see that guy on the left? The one that's smiling and *gasp* shaking Mao's hand?
That's Richard Nixon.