Granted, it takes a lot of time to work with a Presidential campaign. So, we'll forgive Sarah Palin for that. So what is the world's most famous Governor to do after a long and laughable campaign. Keep campaigning, of course.
Anchorage - While Gov. Sarah Palin is out of state again, this time in Georgia campaigning for incumbent Republican U.S. Sen. Saxby Chambliss on the eve of the runoff election, Alaska faces challenges including a lack of leadership from the Governor.
* Oil prices have dropped dramatically to about $45/bbl from the peak of $144/bbl in July, which threatens the state budget.
* Alaskans are paying some of the highest prices for gas in the nation, averaging $2.87 per gallon, while the national average is $1.91.
* The state's oil production continues to decline, due to falling prices and mature fields.
* The global credit crunch and falling natural gas prices threaten the Alaska gas line.
* The State is failing to meet its constitutional obligation to take care of public education as shown by the high drop out rates and the low graduation rates.
* Many Medicare patients cannot find doctors.
* There is continued flight from rural villages.
* Alaska faces the prospect of reduced federal dollars from Washington, D.C.
Of course, pointing things out that Palin should address in the state where she is supposed to be governing is bad in the eyes of her adoring fans.
Seriously, if she wanted to stay in the spotlight and try to redeem herself, she could at least be advocating on behalf of special needs children. She should be working on how to prevent teen preganancy. She could at least give back the clothes that were bought for her.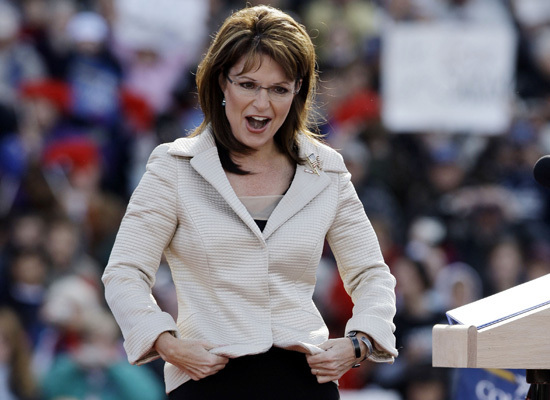 October 18th. Flashing her "junk"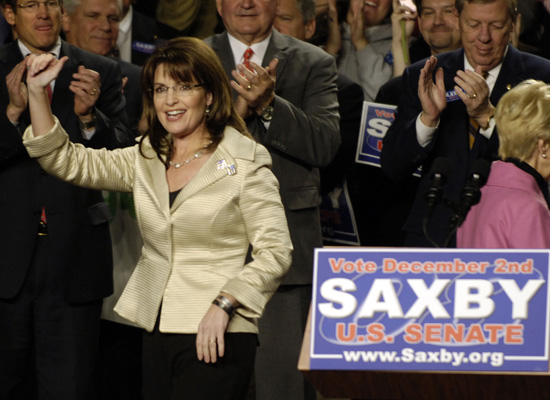 Dec 1st. Stumping for some "junk"