Are you fucking kidding me?!?!
How about a nice piece of FUCK OFF!!
Merrill Lynch & Co. chief John Thain has suggested to directors that he get a 2008 bonus of as much as $10 million, but the battered securities firm's compensation committee is resisting his request, according to people familiar with the situation.
From The
Wall Street Journal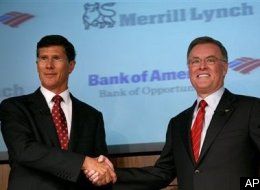 Yeah, this is the guy that headed Lynch and lost almost $12 billion ( yes, kids, that's with a big-ass B ) and he's asking for a bonus.
That's like driving drunk, running over some pedestrians, punching a cop in the gooch, and then asking for a double-shot of J&B scotch ( neat ) once they get through processing you at the station.
Not only that, but Lynch was bought out by Bank Of America, and he's somehow staying one. In what capacity, no one is saying at this time.
This corporate hack should have been tossed out on his ass.
More here from a story at
Reuters
And we should have this guy tossing John Thain out of the building when he gets told: