It would appear that the monopolistic - and devoutly conservative -
Clear Channel
has pulled billboard advertisements for comedian/actor
Harry Shearer's
latest project entitled
Songs of the Bushmen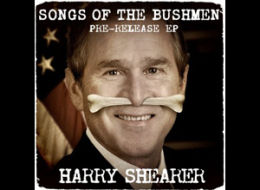 You may not recognize the name, but you may know
him
as the voice of Flanders on The Simpsons or as Derek Smalls from Spinal Tap. He has been in literally
hundreds
of film and television programs and is a regular contributor to
The Huffington Post
.
The cover of the album apparently has angered Clear Channel's advertising agency. Shearer explains:
"Their tone turned from genial salesperson to angry schoolmarm - 'This is unacceptable,' "
Of course, this isn't the first time that Clear Channel has opted to favor more 'conservative' and even 'fringe' interests rather than provide equal time for all parties interested. Last October, they pulled an ad for
VoteVets
because it:
would conflict with the listeners who have chosen to listen to Rush Limbaugh."
Read more at
Think Progress
.