Apparently the wrap-party for Oliver Stone's newest film "W" ( guess who it's about ) didn't end too well for two of the guys there:
SHREVEPORT, La. (AP) -- Police said Wednesday they have video of a bar brawl in which members of a crew filming an Oliver Stone movie - including actors Josh Brolin and Jeffrey Wright - were arrested.

Police Chief Henry Whitehorn told The Times of Shreveport he is reviewing the case and will submit it to the city prosecutor's office, which will decide whether to proceed with charges.

Police said they have video from patrol car cameras and audio from officers' microphones but would not elaborate on their contents.

Brolin, Wright and five crew members of the Oliver Stone film "W." were arrested Saturday on misdemeanor charges at the Stray Cat Club.

Brolin, who plays President Bush in the film, and Wright, who plays retired Gen. Colin Powell, are charged with interfering with police. Each posted a bond of $384, according to court records.
More here from The
Orange County Register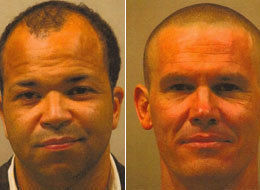 Apparently, the video shows Wright being repeatedly tasered while the officers scream - well, you know.
Josh Brolin and Jeffrey Wright, who were arrested this past weekend at a Shreveport, La. bar, were pepper sprayed and tased by cops. And, we're told, police went on a vulgar rant -- and portions were caught on cell phone video.


The incident occurred during a wrap party for Oliver Stone's movie "W" about the Prez. Local station KTBS reports and TMZ sources say Wright, who plays Colin Powell, was repeatedly tasered and pepper sprayed as he lay prone on his stomach in the street. We know witnesses heard the officers using extremely foul language, including the "N" word, directed at Wright.

Our sources say Brolin was observed by witnesses attempting to make peace and standing still as he was repeatedly sprayed in the eyes by cops.

So, if witness statements are true, and the video shows this as well, are we going to see some police officers losing their job, or are we going to see some police officers on "administrative leave pending a further investigation"?
The later usually means that the department is going to try and bog this down as much as possible until people forget about it and then reinstate the officers with full pay.
Considering we're talking about Josh Brolin and Jeffrey Wright ( and by proxy - Oliver Stone ) I'd say this is not going to be looking so good for some Louisiana officers.