Michelle Malkin
and her 'crew' had a field-day with the photo-shopped picture released by Iran earlier in the week.
Well, now comes the time when the "news" organization that represents them ( read : conservative ideologues ) seems to have problems of their own.
David Shuster @ MSNBC caught this:
Whomever is running the graphics department put the Strait of Hormuz in the wrong place, and they didn't even spell "strait" correctly.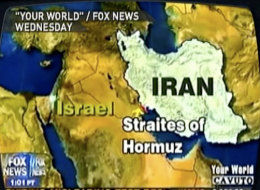 Fox's ignorance often manifests itself in interesting ways. But, the graphics that they use are rarely meant to inform but rather confuse.